During this Saatva mattress review, we will focus on their flagship Luxury Firm innerspring model and why exactly it ended up being one of our favorite mattress brands
Saatva Mattresses: The Good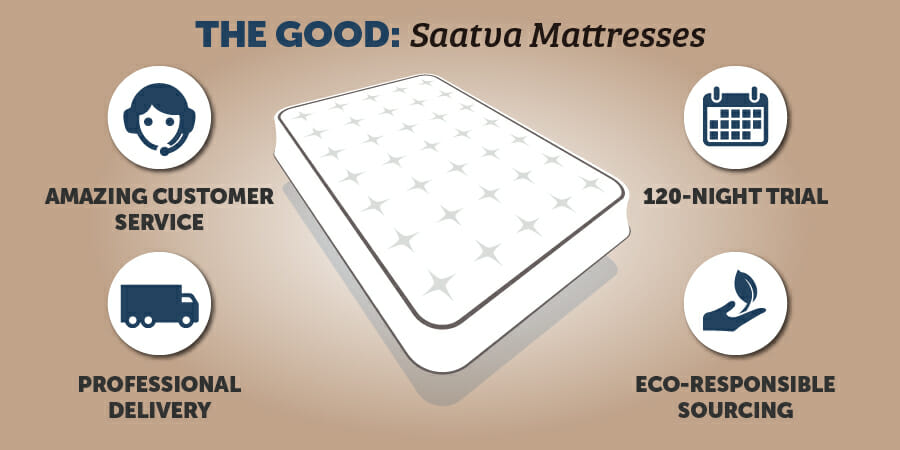 When including the three Saatva brands (Saatva, Loom and Leaf, and Zenhaven) over 30,000 verified reviews of Saatva products have been left on review sites online. Depending on the scale, Saatva products and the experience of users has gained average ratings of 9.7 out of 10, or 4.9 out of 5. While these numbers vary slightly by Saatva brand, one can easily say that Saatva is one of the most highly reviewed mattress companies online. For our rundown of what customers found the best about their Saatva buying and sleeping experience, we look at reviews averaging at or above 8 in 10 or 4 in 5.
What Customers Love in All Saatva Brands
Industry-leading 120-night risk free trial.
Real-time answers to questions online.
Professional local delivery and potential set up
Highly responsive customer service
Hassle-free returns
Great communication from brand to customers
Precise language regarding mattress specifications
Removal of old mattress
What Customers Love About Saatva Mattresses
Over 8,100 of Saatva's 9,700 verified shopper Google reviews rated their Saatva mattress 5 of 5 stars. When looking at 4 and 5 star reviews, this encompasses over 9,300 of 9,700 reviews. That means that 96% of verified Saatva customers rate their mattress 4 or higher of 5 stars.
Extremely professional delivery and set up
Nice range of firmnesses in mattresses
Much more clear information on Saatva's site than competitors
Lack of marketing "fluff"
Efficient resolution of any issues by customer service
Great "look" to the mattress (exterior)
Quick turn around for expedited shipping
High value for price
Comparable eco-responsible mattresses much pricier
Complementary 1.5″ mattress topper for firm Saatva mattresses (upon request)
What Customers Love About Loom and Leaf Mattresses
Of over 1,000 verified shopper Google reviews, 88% rated their Loom and Leaf mattress and experience with 5 of 5 stars. An additional 7% of shoppers reviewed their Loom and Leaf mattress with 4 in 5 stars. That means that 95% of verified Loom and Leaf customers rated their mattress 4 or higher of 5 stars.
Immediate answers through on-site chat feature
Very clear product specifications
Lack of marketing "fluff"
Sleeps cool for a memory foam mattress
High value when compared to comparable memory foam brands
Eco-friendly values a rarity for memory foam mattress companies
Good for large sleepers
Helpful guidance from customer support for customers who aren't yet "sold" on their new mattress
Slightly more affordable than certified organic mattresses, yet still mindful of materials
What Customers Love About Zenhaven Mattresses
While a large number of Zenhaven mattress reviews are bundled with Saatva company reviews. Several sites do host verified customer review locations for Zenhaven specifically. ResellerRatings.com has close to 300 Zehnaven mattress reviews with an average rating score of 9.77 out of 10. Of those reviewers, 90% rated their Zenhaven mattress with top marks. While an additional 5% gave their Zenhaven Mattress 8 out of 10. This is in line with other Saatva brands, with 95% of customers rating their Saatva mattress 4 or higher out of 5 stars.
Customer service willing to answer in-depth questions comparing mattresses
Very clear product specifications
Range of firmnesses available
Very responsible customer service
Excellent value for quality of latex mattress
Quick and simple to order
PROS
High-quality manufacturing at par with the best
Advantages of both innerspring and foam
Great price - Get Queen size for only $1,099